An anthem for baritone solo, ATBrBB choir and organ, written in October 1976. Words: James Cotter; music: Peter Tranchell.
Peter Marchbank reviewed the score:
The priest, James Cotter, was the Chaplain of Caius College from 1974 to 1977. He had a keen interest in mental health and the power of religious faith to help those who suffered from problems. To that end, he had written a number of books and collections of poetry. Peter was moved to set one of his poems in October 1975. "Dazzling Darkness" is composed for tenor soloist, a choir comprising altos, tenors, baritones and basses with an organ accompaniment. The title is taken from the refrain which ends each verse except the last: "There is in God, some way, a deep but dazzling darkness". The music of each verse is much the same always ending in C sharp, although each verse begins with a repeated augmented triad on B. As with all of these early anthems, the choral writing is attractive and straightforward with the richer harmonic interest occurring in the organ part.
The PDF score can be accessed here or by clicking on the image below.
© Cambridge University Library. MS.Tranchell.1.49. Published with the permission of the Syndics of the Cambridge University Library.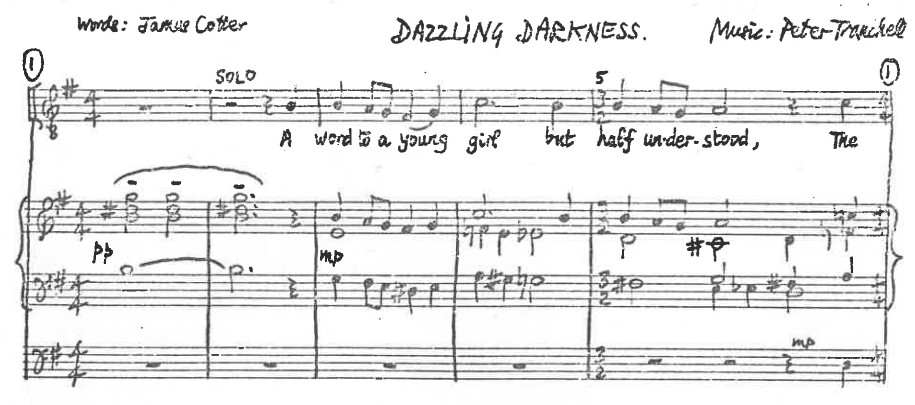 The poem
A word to a young girl but half understood,
the hov'ring wings of the shadow of God;
the light of the world and a sword that shall pierce
from her deep dark womb.

There is in God, some way, a deep but dazzling darkness.

A birth hardly noticed some way from her home,
a sign in the dark for the outcast who roam,
the faintest of lights from the newest of stars
within the deep dark cave.

There is in God, some way, a deep but dazzling darkness.

The darkness of Friday near snuffed out that light,
Men grieved that they sank once again in their plight,
but his cry pierced the earth;
they find he is gone from the deep dark tomb.

There is in God, some way, a deep but dazzling darkness.

The glitter of Christmas may point to that star,
yet spaces between make us still journey far.
So trust yourselves to that great dazzling fall
into God's deep dark.
The refrain borrows from Henry Vaughan's poem The Night, which has final verse:
There is in God, some say,
A deep but dazzling darkness, as men here
Say it is late and dusky, because they
See not all clear.
O for that night! where I in Him
Might live invisible and dim!
A revised version of the poem was published in 'Prayer in the Day' © Jim Cotter 1989, now published by Hymns Ancient & Modern, who have confirmed that we are able to publish the above, original, version of the text as it is sufficiently different.