Four Voluntaries for Organ
The Four Voluntaries for Organ were performed by Basil Ramsey (later to be Editor of The Musical Times and Choir & Organ) at New Court Congregational Church, Tollington Park, London N4 on Monday 3rd November 1952. Peter introduced the pieces in the programme:
In style, they are intensely individual with an occasional glimpse of Hindemith. Chromaticism and dissonance freely abound, but in a very sane and logical way that reveals a firm diatonic basis. The Fantasy is sectional: a slow opening, a faster section introducing the main material, development, return of the opening section, and a concluding passage founded on part of the development. The Epilogue has a contrasted middle section for manuals only.
As with many of his works, Peter often changed the titles and order of the movements. The presentation of the original work was quite staid with each movement being given a rather prosaic title:
Introit (marked Lento: Rubato e molto espressivo)
Offertory (marked Moderato)
Postlude – Epilogue (marked Andantino grazioso)
During the Sermon (Allegretto delizioso)
However, whilst revising the work in 1964, Peter added the sub-title "suitable for sundry occasions" and gave each movement a new title:
Pastorale
Fantasy
Prayer
Epilogue
To this last movement, he added in pencil "NB Before starting: The door of the organ-loft should be locked from the inside." This is hardly surprising, since it is a delicious popular dance. A recording of this movement was made at the Commemoration Weekend in 2005.
Tranchell: Epilogue, played by Trevor Blease and recorded live at the Commemoration Weekend in 2005 - use the player below or download the MP3: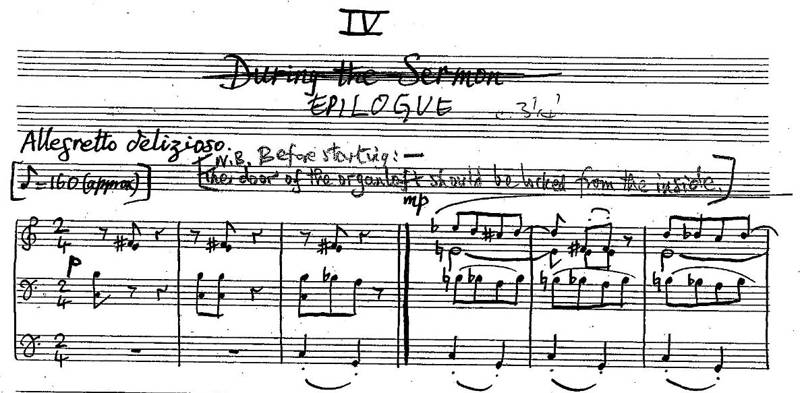 Scores are linked below. Please also see our guidance on the use of this score.
Prayer - coming soon