Four Piano Duets (One Piano – Four Hands), by Peter Tranchell (1922 – 1993). Composed in May 1953.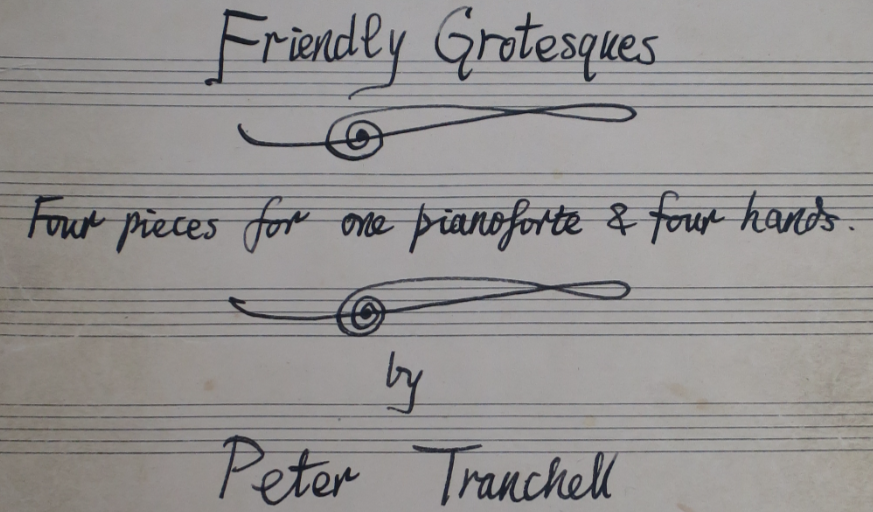 In a letter to his parents dated 29 June 1953, Tranchell wrote:
I wrote four amusing & witty piano duets, called "Friendly Grotesques". These were played at the Fitzwilliam House Mayweek concert, & so delighted the audience that the last of the four had to be played again. The rest of the programme consisted of Handel, so my pieces came as a refreshing change. The players were Thurston Dart & Allen Percival, the former of 3rd programme & harpsichord fame, the latter the music-director of Homerton.
Tranchell himself played one of the parts at a performance at Monkton Combe School in 1959, and again in 1963 at the inauguration of the Lecture Hall for the new Fitzwilliam buildings (with David Atherton, an undergraduate there at the time); the House became Fitzwilliam College in 1966. Peter Tranchell was Director of Studies in Music at Fitzwilliam House from his appointment as University Assistant Lecturer in October 1950 until 1967, and wrote 'Murder at the Towers'(a 'detective cantata'), his second Concert Entertainment, for them in 1955.
In August 1963 Tranchell mentioned another performance in a concert in Caius: "I & the organ-scholar* played them, – not without quite a bit of practising, as they're rather difficult" (* Martin Neary).
The full score is provided here (or click on the image below to open the PDF). It is formatted for printing on B4 size paper for performance, but reduces easily to A4 in a PDF reading/printing program. Please contact us if you would like to order pre-printed copies (on B4 paper). Please also see our guidance on the use of this score.