IN PREP
Ballet in 11 numbers: Il Preludio, Il Giocoso, La Radura, Il Terremoto, Il Antico, Il Brioso, La Bramosia, Il Moderato, Il, Pensieroso, L'Allegro, Finale. Based on lines from Shakespeare plays.
Peter T was engaged to write the music for "Images of Love", a ballet inspired by Shakespeare choreographed by Kenneth Macmillan. It did not go well. We will reveal the complex twists and turns here in due course, but PAT found KM difficult to work with, timescales were rushed, and KM didn't like the result.
But the ballet seems to have been notable in some respects. For example we learn from the Barry Kay archive that he designed the scenery and costumes, and, being "an avid champion of pioneering fundamental change in ballet design, Kay achieves his notable breakthrough with three-dimensionally constructed sets for this production." That source notes that the world première took place on April 2nd 1964, at The Royal Ballet, Royal Opera House, London. In 1965 Kay's work led to further commissions from Nureyev, and an exhibition of his sets from Images of Love.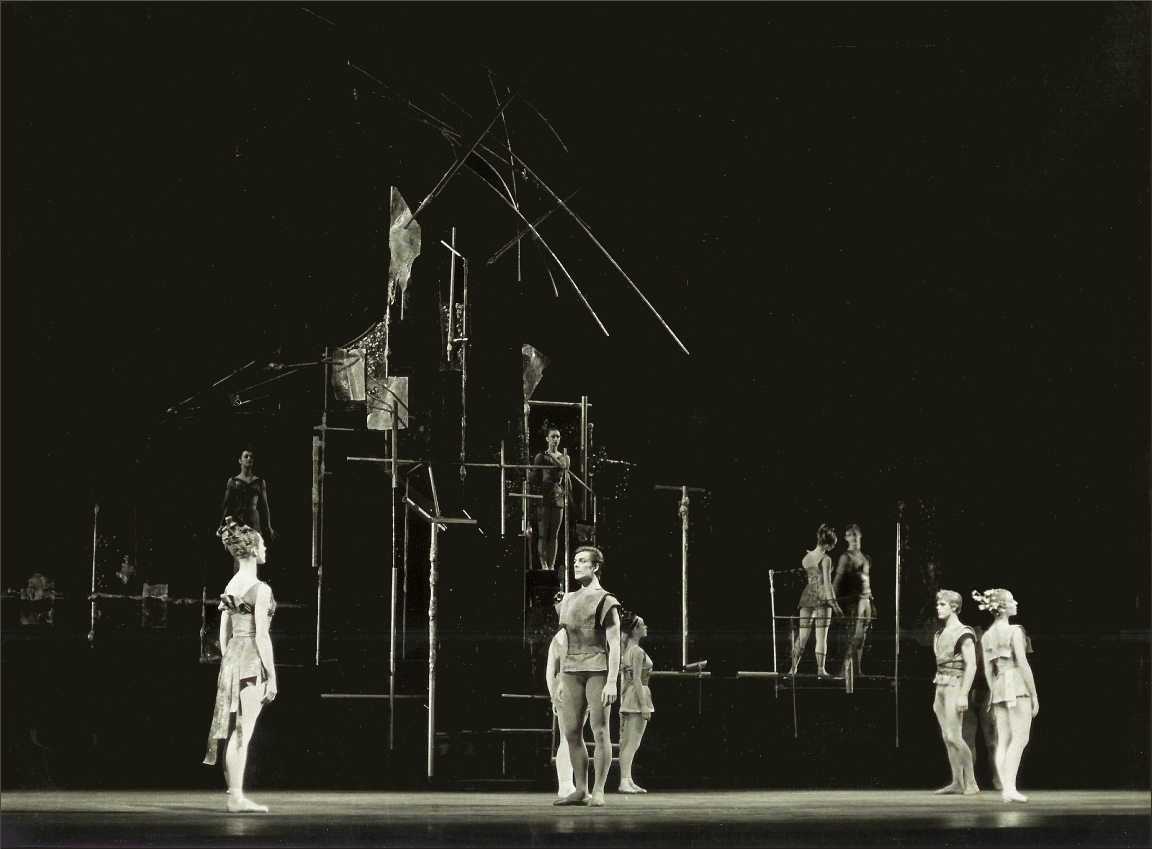 The work was originally titled "The ages of love".
In a review for the New York Times, Clive Barnes opined
"This is Shakespeare Year and no one in Britain is being permitted to forget it. Tonight, at Covent Garden, the Royal Ballet produced its own fanfare -- and, although it was rapturously received by the audience, it sounded more than somewhat flat." New York Times, Apr 3, 1964, p.28.
He went on...
"Mr. MacMillan's "Images of Love" was a string of characterless demonstrations of Shakespeare quotations on love, each solemnly intoned and then painstakingly acted out.

Set to inflated, ponderous music commissioned from Peter Tranchell, and danced against an abstract metal setting that looked like a Calder mobile come home to roost, the ballet possessed a few good moments that hardly offset what seemed like hours of tedium.

The most sensational aspect was an ambivalent pas de trois for Mr. Nureyev, who was apparently being fought for by Lynn Seymour and Christopher Gable. This, supposedly an illustration of the sonnet starting "Two loves I have of comfort and despair" ends with Mr. Nureyev apparently extinguishing both his loves—and not a second too soon."
The ballet clearly attracted some ardent fans, even if Clive Barnes was not among them. An excerpt was re-staged in 2003 (see the Royal Opera House Performance Database), "with Coyle and Seymour both involved in the staging" (according to user "FLOSS" Posted October 9, 2017 (http://www.balletcoforum.com/topic/16320-macmillans-the-four-seasons/ ), while "ninamargaret" in the same thread felt "even more I wish Images of Love could be revived - probably impossible after all this time, but maybe not."