PAT wrote the music for Zuleika, a musical based on the 1911 novel, Zuleika Dobson, by Max Beerbohm. The lyrics were provided by James Ferman.
A useful history is provided on Wikipedia.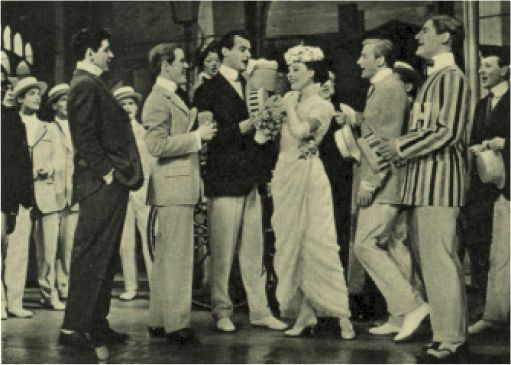 Recordings
Three songs from Zuleika were performed by Alex Kidgell and Martin Neary at the Commemoration Weekend Concert, 24th September 2005.
Someday he may - use the player below or download the MP3:
Zuleika's travels - use the player below or download the MP3:
The kind of man for me - use the player below or download the MP3:
History and information
Stories about the productions (e.g. Diane Cilanto, the London cast included Patricia Routledge) http://www.ovrtur.com/production/2894518
From: Ellacott, V. London Musicals 1955-1959 http://overthefootlights.co.uk/London%20Musicals%201955-1959.pub.pdf
London run: Saville Theatre, April 11th (124 performances)
Music: Peter Tranchell
Book and Lyrics: James Ferman
Director: Alfred Rodrigues & Peter Powell
Choreographer: Eleanor Fazan
Musical Director: Ron Grainer and later Charles Mackerras
Sets and Costumes: Osbert Lancaster
Producer: Donald Albery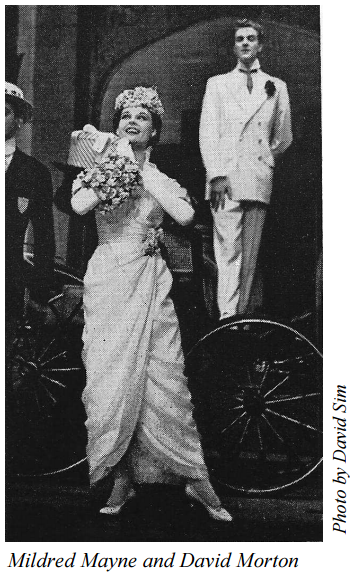 Story
Zuleika Dobson causes a sensation when she arrives at the all-male enclave of Judas College, Oxford where her grandfather is the warden. The first to fall in love with her is the Duke of Dorset, followed by Noaks, another student, and then by the entire student body. However, Zuleika rejects them all because she can only fall in love with someone who does not love her in return. The rejected suitors one by one decide to drown themselves and leap into the River Isis. When there are no men left, Zuleika moves on to Cambridge University, where a scornful man – made of stronger stuff than the Oxfordians, finally brings her to heel.
Notes: This was based on the 1911 novel "Zuleika Dobson" by Max Beerbohm. The pre-London tour opened with the young Australian actress Diane Cilento in the title role. However, she failed to appear on the second night, and her understudy took over. Diane Cilento returned a few days later, but two weeks later there were rumours she had tried to slash her wrists during the Oxford week. She was replaced with Mildred Mayne, and eleven days later the show opened in the West End. It survived just over three months.
Cast (from various combined sources)
Mildred Mayne (Zuleika)
David Morton (Duke of Dorset)
Peter Woodthorpe (Noaks)
Clive Exton (The Hon. Charles Trent-Garby)
Patricia Routledge (as Aunt Mabel)
John Gower
Peter Murray.
Also: David Ayliff, Patricia Stark, Roderick Cook, Michael O'Connor, Richard Hart, Leighton Camden, Raymond Cooke, Gordon Cornish, Christopher Bamford, David Oddie, David Spurling, Geoffrey Underwood, Patricia Rowlands, Delia Corrie, Anne Hyde, Yvonne Marlowe, Wendy McClure, Elizabeth Osborn, Judith Whitaker, Susan Wren, Daniel Thorndike, Hermione Harvey, Richard Hart.
Songs
Eights Week; City of Repose; Zuleika; Zuleika's Travels; Lovely Time; It's My Doorstep Too!; All Over Again; Nellie O'Mora (lyric by Harry Porter); Anything Can Happen; The Last Dance of the Evening; What Has She Got?; Always Be Wary of Women; I Want A Man To Say No; Someday; Follow the Fashion; Seventeen Years From Now. (Information from Adrian Wright, A Tanner's Worth of Tune: Rediscovering the Post-war British Musical).
Reviews
IN PREP
Televised extract
On Wednesday 12th June 1957 a special performance was filmed for a 45-minute episode of BBC Television's Theatre Night series (Screen Plays, "Zuleika [extract]". http://bufvc.ac.uk/screenplays/index.php/prog/333 (accessed 15 Sep 2016)).
Military band version
Zuleika. Selection. Arranged for military band by W. J. Duthoit.
Score and parts are available for loan on payment of a deposit and postage/packing - please contact us.
Orchestral version
Zuleika: Selection. Peter Tranchell; Felton Rapley; Charles Mackerras, Sir. Publisher: London : Chappell & Co., ©1957. Series: Chappell & Co's orchestral works, no. 521.
Piano versions
Two versions for piano are known.
PAT prepared his own piano reduction, which we have typeset and made available as PDF here (or click on the image of the closing bars below). Please contact us if you would like to order pre-printed copies at £2 per copy. Please also see our guidance on the use of this score.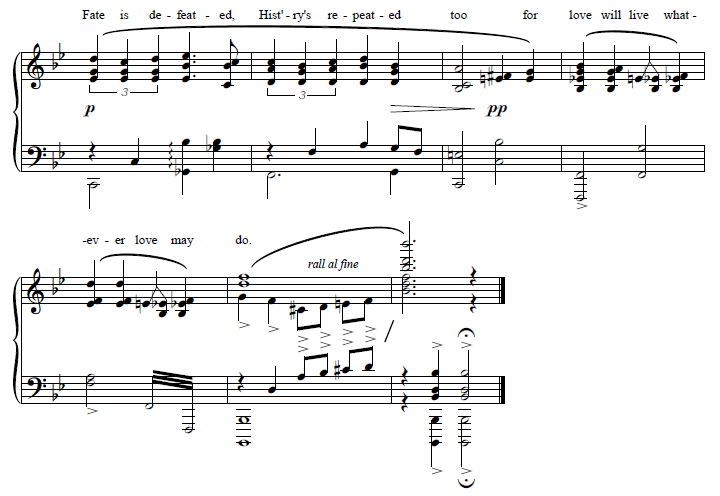 Chappell & Co published "Piano Selection" arranged by Felton Rapley, as well as three of the songs: "Zuleika", "All Over Again" and (TBC). Copies are occasionally available for purchase by searching on the internet.