As shown in this scan from the cover of the original score, Tranchell's Festive Overture was written in 1966 for Peter Marchbank and the Basingstoke Musical Society Orchestra (now the Basingstoke Symphony Orchestra), and was first performed at the Haymarket Theatre, Basingstoke, on Saturday May 14 1966.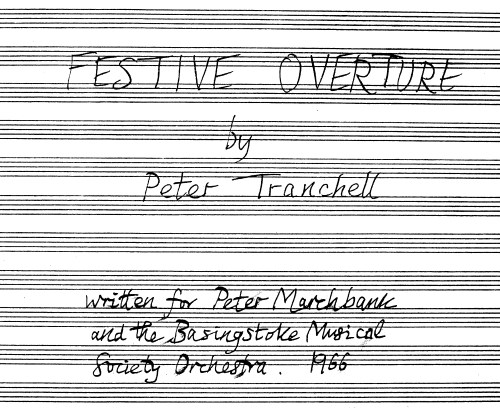 Orchestral score & parts
A full typeset PDF score is available here, and parts are available on request (with a charge to cover postage and packaging only) - please contact us. Please also see our guidance on the use of this score.
Arrangement for organ
The work has been arranged for organ by Tim Harper, and we are pleased to be able to publish the free score here in two versions:
A3 version using only treble and bass clefs
The arrangement can be performed in full (c. 12 minutes) or as a shorted version (c. 6 minutes).
The arrangement for organ has been performed several times in 2022 and 2023, by Tim Harper himself and by Kevin Bowyer.
Recording
The piece features as the first track on John Ireland: Orchestral songs and miniatures, 2010, Dutton Vocalion http://www.duttonvocalion.co.uk/proddetail.php?prod=CDLX7246 (BBC Concert Orchestra, Conductor: John Wilson; Date of Recording: 07/14/2009; Venue: The Colosseum, Town Hall, Watford; Length: 11 Minutes 21 Secs).
In his CD review for Fanfare, Colin Clarke felt the piece "certainly fulfills its remit [as a light opener for a concert]. It is expertly crafted, frequently delightful, beautifully and often wittily scored and heard in a performance here by the BBC Concert Orchestra that positively drips affection and devotion. For a piece that lasts a mere 11 minutes, it packs in a remarkable variety of emotions."
The recording is now available on major streaming platforms - e.g. here on Spotify.