After completing the MusB in 1949 then teaching for a year at Eastbourne College, Tranchell returned to Cambridge in 1950 as University Assistant Lecturer in Music.
Peter Marchbank says of this Organ Sonata (in his analysis of music from Peter Tranchell's early years):
Also in 1950, came an Organ Sonata, perhaps for the first time composed for the sort of instrument that might be found in a Parish Church and is, for that reason, probably worth a hearing. It's a well-written piece, copied out in ink, though with some amendments that look as though they may have been made in the light of a performance. There are four movements: the first, Prelude, is marked Allegro; then comes a Scherzo marked Presto and Staccato; the third is a Threnody (en petite passacaille) marked Andantino affetuoso (e rubato); and the Finale is a Fugue marked Allegretto. As one has come to expect from Peter, the registration is detailed and there is a keen appreciation of what can be achieved on an organ. Above all, the music is approachable, a trait that would become more marked in the coming years.
We can be reasonably sure that Tranchell was playing on and writing for the organ in King's College Chapel. At one point in the Fugue he suggests 'tuba on double-touch solo-to-great if available', a rare facility on church organs but recorded as present on the King's organ by the 1933 survey available on the National Pipe Organ Register.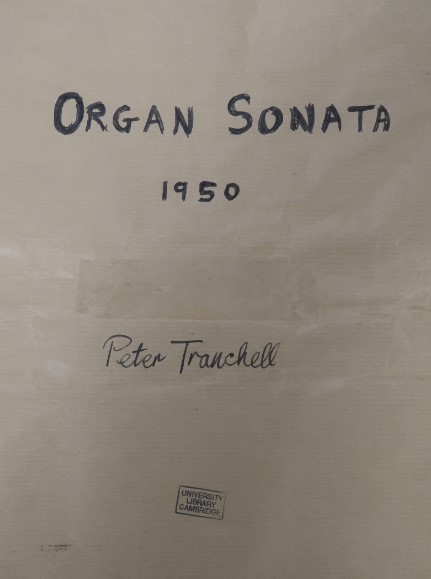 Score
https://peter-tranchell.uk/scores/organ-sonata-1950/tranchell_organ_sonata_1.1.pdf