Spring Rondo was composed for, and performed at, an Informal Chamber Music Concert by Fitzwilliam Music Society, of which Peter Tranchell was the President, on Sunday 5th May 1968, played by Peter Tranchell and Keith Harrison. The work was composed 'intermittently' between 8am and 11pm on 1 May 1968.
The score for this work was thought to be missing until January 2022, when it was found in the Gonville & Caius College Choir Library.
Typeset PDF score here, or click on the image below.
The manuscript score is available here for reference only (courtesy of Gonville & Caius College Choir Library).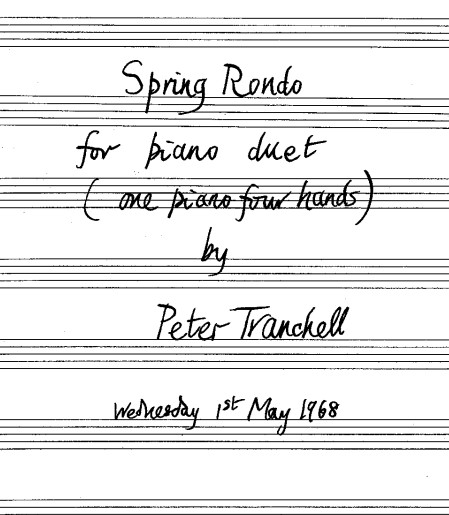 Manuscript courtesy of Gonville Caius College Choir Library © Cambridge University Library. Published with the permission of the Syndics of the Cambridge University Library although the Library does not currently hold a copy.
Included below is a computerised performance of the work by Musescore notation software, for illlustrative purposes only! The score shown in the recording is an export/import exercise, with no layout work undertaken.