The Remembrance Waltz, transcription for piano
Tranchell's piano transcription of The Remembrance Waltz, aka Souvenir d'un jour d'espoir, from his incidental music for the 1947 Cambridge production of Johnson Over Jordan (the 1939 play by J.B. Priestley). The original score is 102 pages, scored for violin 1, violin 2, cello, flute, clarinet, alto saxophone (or clarinet), horn, guitar, piano, typewriter, tin plate, glockenspiel, side drum, triangle, bass drum, slung cymbal.
This score has been typeset from MS.Tranchell.2.110 and has used the many pencil revisions in the manuscript where they are legible.
The manuscript is annotated 'Dedicated to Peter and Brian. Souvenir d'un Jour d'Espoire'.
The typeset score PDF is available here or by clicking the image below.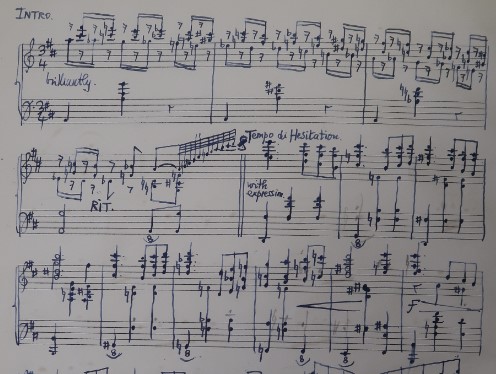 A computerised playback: