A Day in the Garden was written in 1979, for the men's voice College Chapel Choir. A first performance is noted in The Caian in the summer of 1979, and it features in the general tour and Annual Gathering music lists thereafter.
The song was included on the LP Music from Caius, recorded 18th-21th June 1979:
Use the player below or download the MP3:
We have presented the score for a mixed SATB choir, without transposition. Access the PDF score here or by clicking the image below. A typeset version of the original ATTBB score is available on request.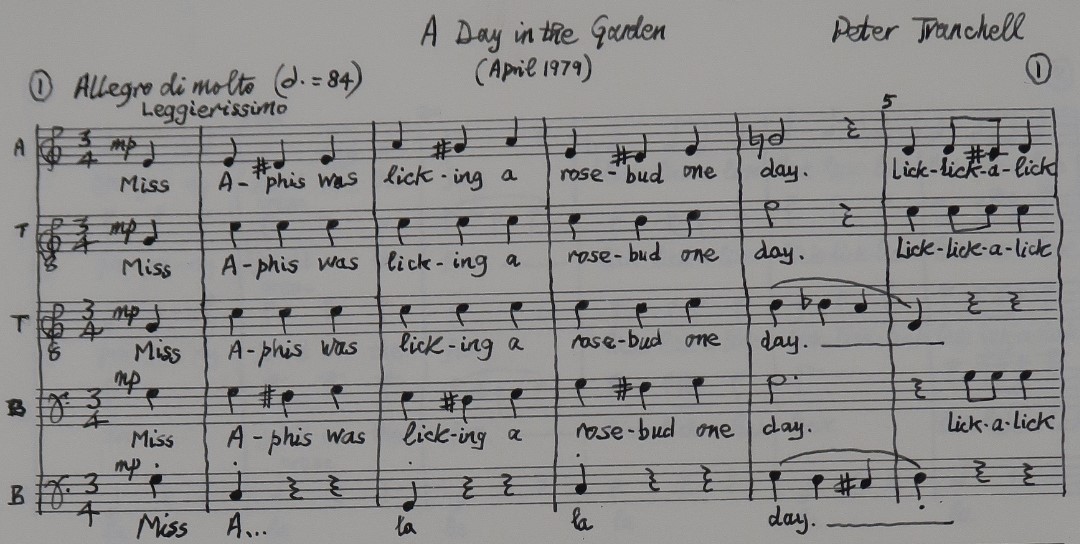 The recording features:
Altos
RP Brophy
SJ Clift
CH Henshall
JA Jacob
KFC Marshall

Tenors
HC Baker
BD Clover
SC Cowling
JD Gwinnell
GJE Jenkins
SJ Salmon

Basses
R Beddow
NG Blanshard
DS Bulley
RK Cross
SPH Haigh
PJG Nicholson
S Preece
RA Searle
PAF Thomas