The dog that sat is a light song by Peter Tranchell, setting words from a newspaper article to music for unaccompanied choir. Originally written in 1967 for TTBrBB, then arranged in 1976 for AATBrBBB (plus whistling).
The words are from a report in a newspaper. First line: The dog picked up at a roadside yesterday could hardly be called a stray.
The song was included on the LP "Music from Caius" (the recording presented below, recorded 12th April 1980). It also featured at the 2005 Commemoration Weekend, and was recorded and released on the Commemoration CD.
The dog that sat, from Music from Caius. Use the player below or download the MP3:
We have presented the 1976 score for ATTBB choir. Access the PDF score here or by clicking the image below. A typeset version of the original TTBB score is available on request.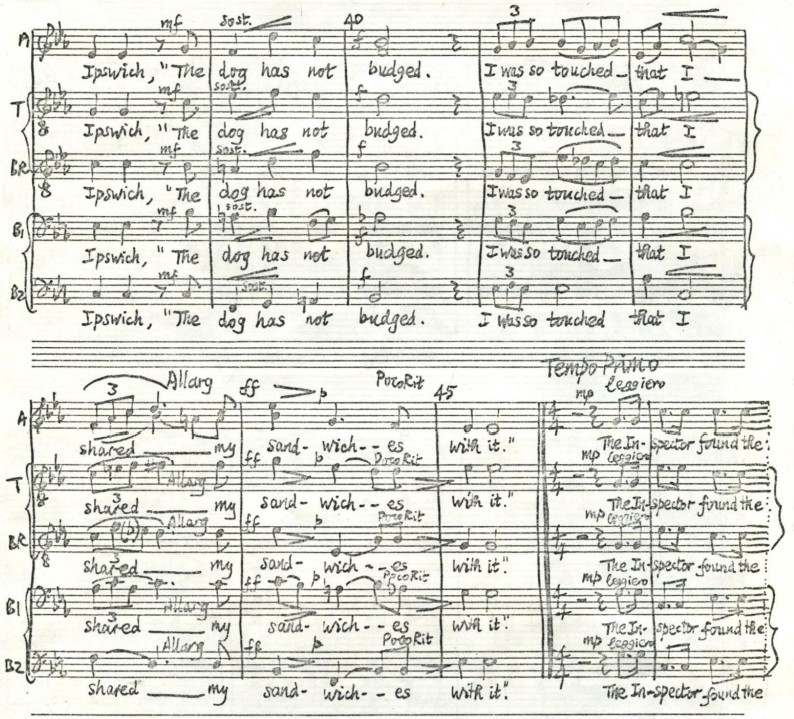 The recording features:
Altos
RP Brophy
AP Day
JD Glover
JA Jacob
Tenors
SR Beale
SC Cowling
GJE Jenkins
SJ Salmon
Basses
NG Blanshard
DS Bulley
MCE Law
S Preece
PAF Thomas