Quadruple chant for Psalms 12 or 13 in C minor (ATBB) or E minor (SATB)
Several versions of this quadruple chant are known. Three are found in the Cambridge University Library archive:
The earliest version (1970) is the quadruple chant for Psalm 12. ATBB & organ in C minor(CUL catalogue entry).
Later versions: quadruple chant for Psalm 12. SATB & organ in E minor (CUL catalogue entry), Chant 12b from the 1970s/80s Caius Psalter in E flat minor for SATB*, and the version for Psalm 13 for SATB & organ in E flat minor (CUL catalogue entry). The SATB versions presumablydate from the period 1982-1989 when the Gonville & Caius College Choir added a soprano line.
The chant is also published as Psalm 103 in the St. Paul's Psalter (Scott, 1997). We have not seen this version (it is not found in the CUL archive), but the recording suggests it is in D minor and lacks the separate variant for the Gloria. It features on the CD Psalms from St Paul's, Vol. 8 93-104, Hyperion http://www.hyperion-records.co.uk/dc.asp?dc=D_CDP11008 The St Paul's Psalm 103 version features in a live BBC radio broadcast from St Paul's Cathedral London, 20 December 1978, with the choir of St Paul's Cathedral, directed by Barry Rose, and Christopher Dearnley (organ), now published on YouTube by the "Archive of Recorded Church Music".
Typeset editions
| Key | Voices | PDF | MusicXML |
| --- | --- | --- | --- |
| C minor | AATB | PDF | XML |
| E flat minor | SATB | PDF | XML |
| D minor | SATB | PDF | XML |
The typeset editions use the * version above as their source. Please also see our guidance on the use of this score.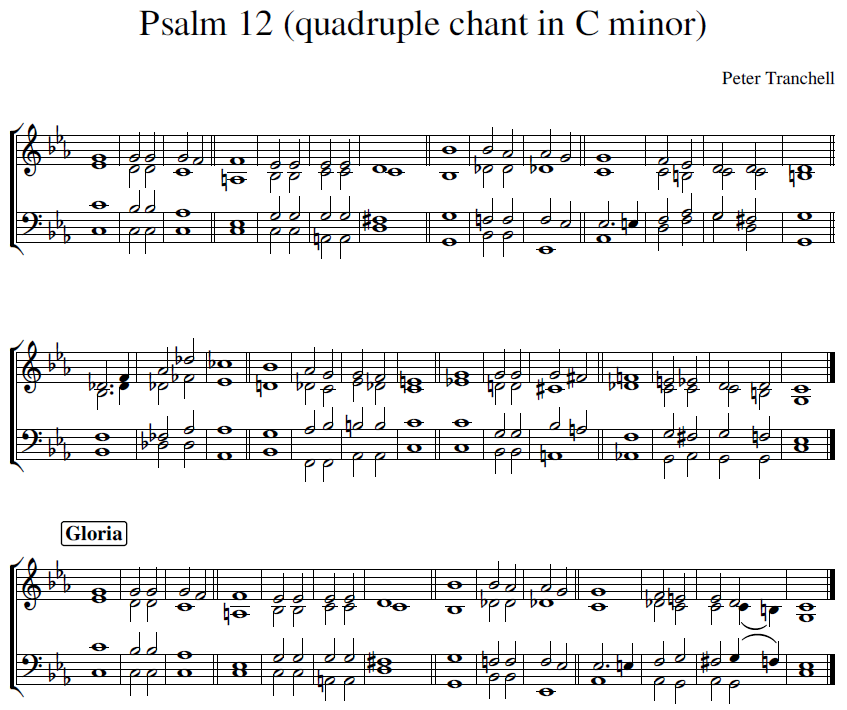 [12]. Psalm XII. Salvum me fac.
1. Help me, Lord, for there is not one godly man left :
for the faithful are minished from among the children of men.
2. They talk of vanity every one with his neighbour :
they do but flatter with their lips, and dissemble in their double heart.
3. The Lord shall root out all deceitful lips :
and the tongue that speaketh proud things;
4. Which have said, With our tongue will we prevail :
we are they that ought to speak, who is lord over us?
5. Now for the comfortless troubles' sake of the needy :
and because of the deep sighing of the poor,
6. I will up, saith the Lord :
and will help every one from him that swelleth against him, and will set him at rest.
7. The words of the Lord are pure words :
even as the silver, which from the earth is tried, and purified seven times in the fire.
8. Thou shalt keep them, O Lord :
thou shalt preserve him from this generation for ever.
9. The ungodly walk on every side :
when they are exalted, the children of men are put to rebuke.
[13]. Psalm XIII. Usque quo, Domine?
With dynamics and pointing from the 1970s/80s Caius Psalter
Psalm 13 with dynamics and pointing

| Dynamic | Verse number | Verse text with pointing |
| --- | --- | --- |
| mp | 1. | How lóng wilt thou forgét me, O | Lord, for | ever? |
| | | how lóng wilt thou | hide thy | face | from me? |
| | 2. | How long shall I seek counsel in my soul, and be so | vexed · in my | heart? |
| | | how long shall mine | enemies | triumph | over me? |
| mf | 3. | Consider, and hear me, O | Lord my | God; |
| | | lighten mine | eyes · that I | sleep not · in | death. |
| | 4. | Lest mine enemy say, "I have pre-| vailed a-| gainst him"; |
| | | for if I be cast down, they that | trouble · me | will re-| joice at it. |
| cresc | 5. | But my trust is | in thy | mercy; |
| f | | and my heart is | joyful · in | thy sal-| vation. |
| ff | 6. | I will sing of the Lord, because he hath dealt so | loving·ly | with me; |
| | | yea, I will praise the | Name · of the | Lord most | Highest. |
| mf | | Glory | be · to the | Father; |
| | | and to the Son, | and · to the | Holy | Ghost; |
| | | As it | was in · the be-| ginning, |
| | | Is now, and ever shall be, | world with·out | end. A- | men. |