Fitzwilliam Communion Service
Music for the service of Holy Communion : written for Fitzwilliam House, 1960
With optional parts for 2 trumpets.
Music for: Kyrie - Credo - Sursum corda - Sanctus - Agnus Dei - Before the Gospel - After the Gospel - Gloria - Final Amen.
First performed in Ridley Hall Chapel on March 6 1960.
A new edition has been prepared by Geoffrey Webber for the 2022 London Festival of Contemporary Church Music, Sunday 15th May 2022, Sung Eucharist, 10.30 am, at The Parish Church of St John-at-Hampstead, London NW3 6UU and we are publishing this arrangement here (or click on the image below). This arrangement incorporates Peter Tranchell's Benedictus from Caius setting No. 2 (1966), and this published PDF edition also include the gradual hymn 'Lord, be thy word my rule' (Tranchell's hymn tune 'Tichfield', 1970), originally for congregation, TBarB choir and organ, arranged for SATB choir and organ by Geoffrey Webber.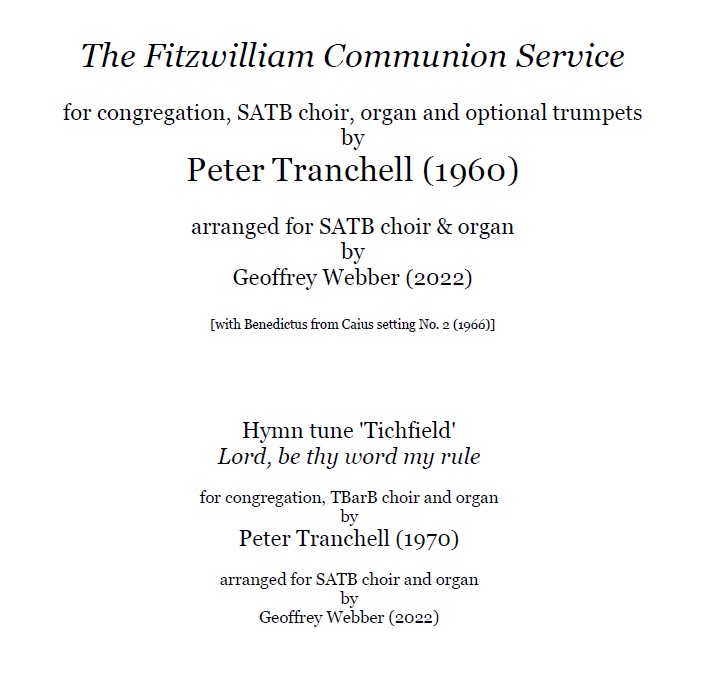 © Cambridge University Library. MS.Tranchell.2.306. Published with the permission of the Syndics of the Cambridge University Library.