Peter Tranchell set this famous text (from Edward Fitzgerald's version of Rubáiyát of Omar Khayyám of Naishápúr) to music in May 1978, shortly before the death of Geoffrey Thornton, the Caius Chapel organ scholar who succumbed to melanoma. Peter knew it was inevitable and although there's nothing on the score it was conceived very much as an In Memoriam. The manuscript is dated 26 May 78, and the first attested performance was by Caius Chapel Choir on tour at Cley-next-the-Sea, Norfolk on 23 June 1978.
The origins of the music are found in Tranchell's hymn Morestead, one of four hymn tunes written to accompany Fred Kaan's hymns published by Galliard as Pilgrim Praise in 1972. Morestead accopanied Kaan's hymn On familiar ground.
The piece was performed and recorded at Geoffrey's commemoration service, and was recorded in 1979 by the Caius Chapel Choir with Peter Tranchell playing the piano for inclusion on the LP Music from Caius (1982). See below for the audio of this track.
We have prepared three editions (access the PDF scores by clicking the links):
Please contact us if you would like to order pre-printed copies. Please also see our guidance on the use of this score.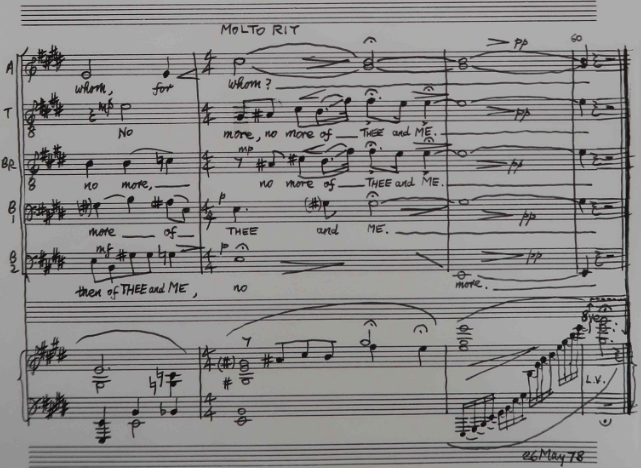 Tranchell: No more of THEE and ME, ATTBB original version recorded in 1979 - use the player below or download the MP3:
Text
32
There was a Door to which I found no Key:
There was a Veil past which I could not see:
Some little Talk awhile of ME and THEE
There seem'd - and then no more of THEE and ME.
23
Ah, make the most of what we yet may spend,
Before we too into the Dust descend;
Dust into Dust, and under Dust, to lie,
Sans Wine, sans Song, sans Singer, and - sans End !
25
Why, all the Saints and Sages who discuss'd
Of the Two Worlds so learnedly, are thrust
Like foolish Prophets forth; their Words to Scorn
Are scatter'd, and their Mouths are stopt with Dust.
21
Lo! some we loved, the loveliest and best
That Time and Fate of all their Vintage prest,
Have drunk their Cup a Round or two before,
And one by one crept silently to Rest.
22
And we, that now make merry in the Room
They left, and Summer dresses in new Bloom,
Ourselves must we beneath the Couch of Earth
Descend, ourselves to make a Couch - for whom?
–…and then no more of THEE and ME.