People, look East was composed in 1982 for the Gonville and Caius College Chapel Choir and originally scored for AATBrBB (though with a note on the cover saying 'If necessary, the first alto part may be sung by sopranos'). The version performed by St. John's College Choir in the 2015 Advent Carol Service was arranged for SATB by Peter Marchbank in 2013.
The Revd Canon Dr Nicholas Thistlethwaite remembers:
When I arrived in Caius as the new Chaplain (Michaelmas 1982) it fell to me to review the arrangements for the Carol Service, which I suspect had not changed much for some years. As I recall, it began with a rather jolly Christmas piece (not 'Jingle bells', but something along those lines). I was used to carol services which began with Advent and the prophecies of the Old Testament before arriving at the Christmas narrative (cf. King's) and was keen to have a quieter and more reflective opening to the service. I suggested this to Peter, explaining why I wanted it, and gave 'People, look east' as a possibility with its rather charming traditional Besancon tune. I should have spotted the twinkle in his eye as he appeared to agree with my suggestion. It was only later in the term that I learned from the choir that he had composed a completely new setting of his own.
The work was indeed first performed at the Gonville and Caius College Carol Service on 28 November 1982, alongside Adam Cantique pour Noel, Anon. (Basque) The angel Gabriel, Anon. (Czech) Lo now sing we together, Anon. (Swedish) Stephen was a stable-boy, Hadley I sing of a maiden, Quilter The cradle in Bethlehem.
Recordings
People, look East has been released on two commercial CDs:
Christmas with St John's on Signum Classics (October 2016). A sample of the track can be listened to on the Hyperion's website: http://www.hyperion-records.co.uk/dw.asp?dc=W19186_GBLLH1645818
All the World Tonight Rejoices: contemporary Christmas music by Truro Cathedral Choir, on Regent Records (REGCD560), released 26 November 2021. Andrew Wyatt, organ; directed by Christopher Gray.
Merton College Choir, Oxford (dir. Benjamin Nicholas) included 'People, look East' in their live-streamed Advent Carol Service 27th November 2022, and it is still available on YouTube:
This recording for the 2017 BBC Advent Carol Service has been made available by the University of Cambridge:
Score
Two typeset editions are available.
The Marchbank arrangement recorded by St. John's College Chapel Choir and Truro Cathedral Choir.
A new edition that more closely reproduces the original manuscript. This edition has been created in 2023 because the Peter Tranchell Foundation Composition Prize 2023 invites composers to use Tranchell's People, Look East as one of their sources of inspiration.
Text © The Miss E Farjeon Will Trust. Reproduced by permission of David Higham Associates Ltd.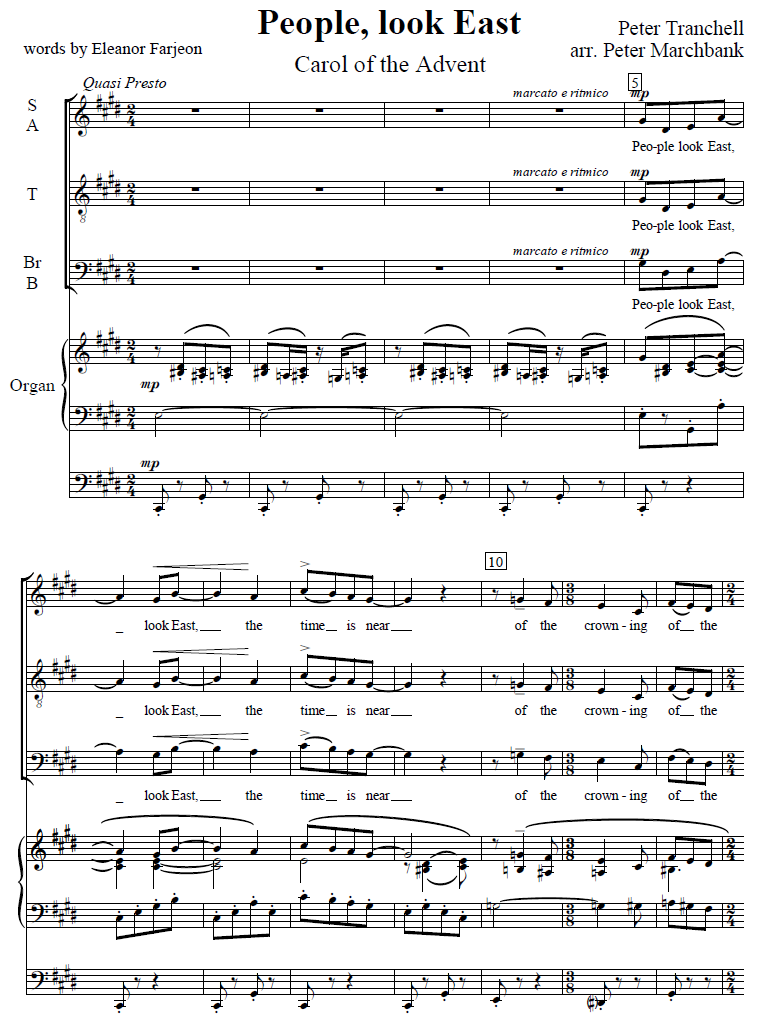 Please also see our guidance on the use of this score.