"Experimental Psalm-Settings" from a 1968 recital programme
From the programme booklet for
A RECITAL

by the CHOIR of

Gonville and Caius College, Cambridge

in the

Church of Saint Margaret, Westminster

6p.m. Friday 15th March 1968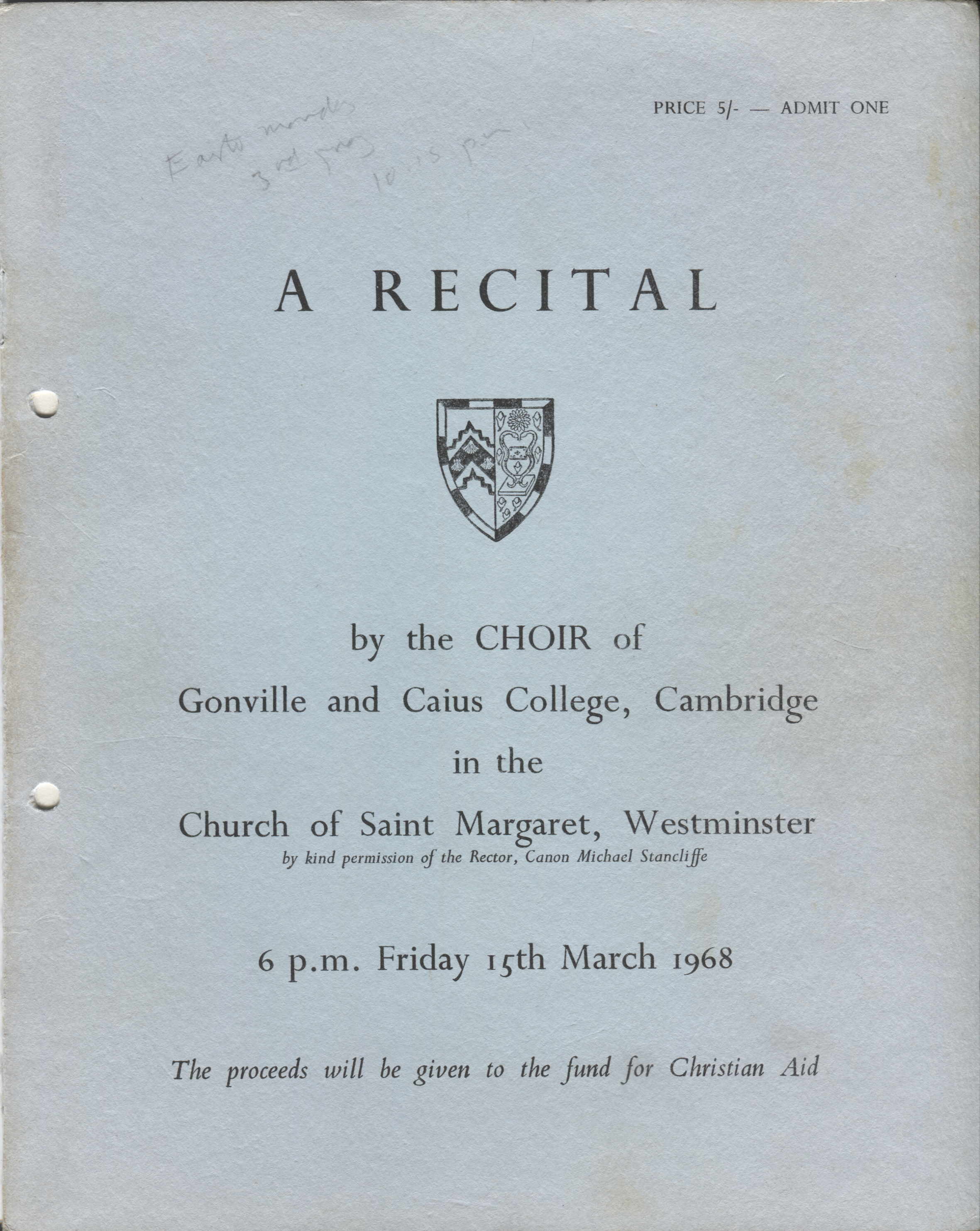 The words, presumably authored by Peter Tranchell:
In 1961, Canon Hugh Montefiore, then Dean of Gonville and Caius College, proposed to Peter Tranchell, the Music Director, that the psalmody of Gelineau should be adopted in chapel. Their discussions led to Tranchell's composing a gradually growing corpus of special psalm-settings of a type peculiar to the College, the psalm being set (in Coverdale's version) to a melody not a chant, and being given a recurring refrain or antiphon to words mostly chosen from the New Testament. It was intended that the congregation should sing the refrain.

In the absence of congregational practices, it was found that a good portion of the congregation could pick up the antiphon only by the psalm's frequent re-appearance on the service-lists. But those of quicker musical apprehension or with sight-reading ability, grew tired of the repetitions. Thus, it fell out that (as with new tunes for hymns, or with unfamiliar chants) the choir soldiered on, leaving the congregation to tag along if it could.

At first the special settings had been written for unison choir, but as the congregation resolutely failed to tag along effectively, more attention began to be paid to making the things of interest to the choir. Subsequent settings show division into two or three part harmony, more syncopated and difficult rhythms, and a more complex melodic idiom. The antiphon was sometimes so closely integrated into the psalm as to cease to be an isolated refrain. In effect the setting became a choir-anthem.

The psalms set (in order of composition) were: 15, 23, 108, 121, 126, 130, 133, 122, 27, 71, 128, 134, 141, 149.
(Note: other psalms were added after this was written in 1968).